Testimonials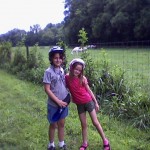 "Tracy has a fantastic mind and has achieved a wealth of both practical and specific knowledge in the area of nutrition and health. Her own struggles with her son's allergies caused her to avidly research causes and eliminate them from her son's diet. Her expertise is in making healthy, economical and non-allergenic meals for her family. She understands how the body absorbs, digests and assimilates foods and uses this knowledge to heal others. Tracy is compassionate to all those she meets but has a special softness for children."    – Dr. Annette Cartaxo, M.D.
"Tracy Bush and I share the same passion—to help others live more freely with food allergies! "The Stepping Stones to Food Allergies" is a refreshing book about Tracy's journey and how you can enjoy many of your favorite foods with allergen-free substitutes. I highly recommend the book and look forward to trying out many of the recipes with my own family!" – Tonya A. Winders, President (AAN A) Allergy & Asthma Network 
Surf Sweets deemed Tracy as "a Renaissance woman of food allergies" Favorite Better-For-You Bloggers.
"I read my first Tracy Bush (Nutrimom) post two years ago.  At the time I knew very little about food allergies other than how "deadly" serious they could be and as a result, I knew how critically important it was that we address them on Pediatric Safety.  Still they were not part of my world…not really.  Tracy changed that for me.  Her articles took this very serious subject matter and made it, in some cases funny, often heartwarming and (most important) always relatable.  Through her writing I could see the challenges and choices a family with food allergies faces, all the wonderful things you learn (and everything you give up) when you became a food allergy sibling, the fears a food allergy parent lives with and HOW TO LIVE YOUR LIFE despite the fears.   I could see how easy it could be to drown in all this "food allergy stuff". But where some might get lost, Tracy thrived.  She made it her life's ambition to learn everything she could about the relationship between nutrition and wellness, and pass that knowledge on to anyone who needed help finding a balance between the two.
It takes a special kind of person to open yourself up to the health challenges being experienced by another human being and turn solving them into a personal mission. But that is the kind of person I have found Tracy to be. Meticulous and unwavering when it comes to searching out the root cause behind someone's unique health problem, yet patient and caring when it comes to working with the individual living with it.
A couple of months ago I had the opportunity to meet Tracy in person at a trade show and not-surprising, she was exactly like I thought she would be (…boundless energy matched by a generous spirit). I am honored to call her colleague and grateful to call her friend.  Pediatric Safety would not be the same without her." – Stefanie Z, Pediatric Safety
"You give me strength 🙂 I would probably still be lost and confused about all of my son's allergies and health problems if it was not for you. YOU ARE AMAZING!!!!!!!!!!!!!!" – Courtney B.
"This isn't a simple little ebook, this is a seriously packed, informative book. I'm actually surprised it's not in print, too. There are loads of tips throughout plus specific product recommendations and recipes. Note that it isn't about "how to manage food allergies" from a social or medical perspective, but rather a real world "how to eat with food allergies" from kitchen stocking to finished meals." Read more – Alisa Fleming of Go Dairy Free & Senior Editor for Allergic Living Magazine
"I was introduced to Tracy and her business through Dr. Bruce Lantelme. For years, I have known that I had allergies, mostly environmental. However, I was aware there were a couple of food allergies involved. Dr. Bruce Lantelme did a complete food allergy blood test. Wow was I shocked to see just how many foods were involved. For years, I have had GI issues not ever knowing the root of the problem. Then all the answers were clear. Loud and clear! I will not lie to you that at first it was rather discouraging to see all the "every day" foods I was eating were causing the problem. I emailed Tracy with my food allergy list and she worked her magic. What makes Tracy so wonderful is that she herself has had to eliminate foods from her life and her family. She found a way to beat the frustration and make it happen. That was the best money spent. I have a very busy life and my work can be stressful at times. I don't always make the right choices still today. I remember what Tracy said to me "pick your battle" you know if you eat something you shouldn't, you will feel it. She was so right. Thank you Tracy for helping me! It is still frustrating at times, but I know that Tracy is only a phone call or email away. " – D. Lanning
"Your help is a Godsend. Thank you!" – Susan W.
"An inspiring food allergy resource"– SnackSafely.com Read more here.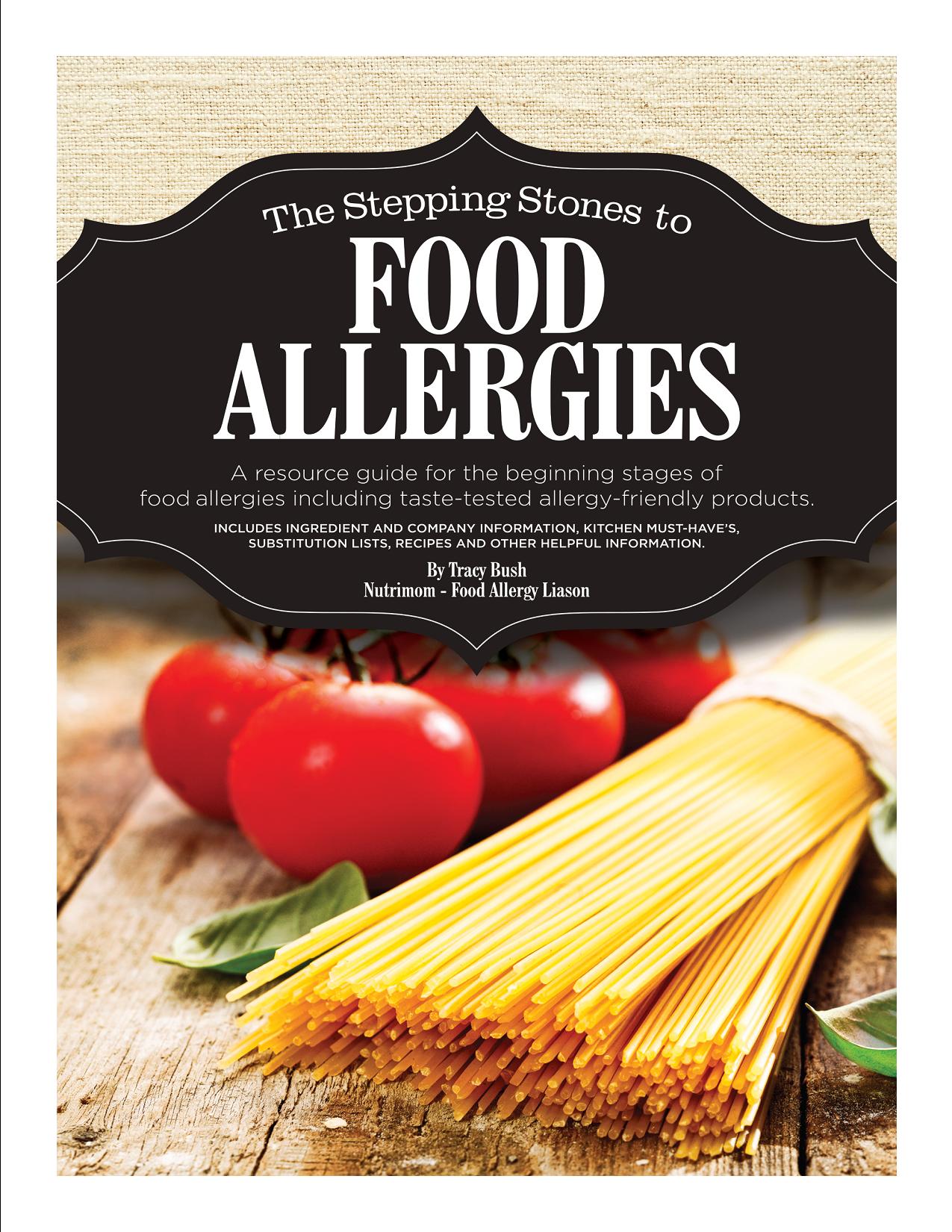 "Tracy has a passion that comes through in her book and one that a food allergy parent can truly relate to!" Read more here. – Cindy Gordon aka Vegetarian Mama
"I was delighted to receive a copy of the ebook: "The Stepping Stones to Food Allergies"and I am impressed of how comprehensive it is! A manual that specializes in allergy-friendly substitutes and recipes that is especially helpful for parents of newly diagnosed children." – Kyle Dine 
"Unlike most food allergy books which are highly scientific in nature, Stepping Stones to FA is easy for anyone to understand. It is very direct to the point and does not contain jargons that add stress." Click here to read the complete review. – Rozelyn – The Frugalista Mom's Allergy Friendly Home
"Embracing Food Allergies as Gift. Tracy, who hosts Nutrimom®-Food Allergy Liaison, honestly and openly shares the first five stages of her life traveled upon after living with food allergies became a reality in her family. "The Journey of Food Allergies" describes how her life (and you'll relate) unfolded from overwhelming despair to a life well lived. Her attitude of finding the silver lining in her new life style and her honest discuss of meltdowns are just spot on. Personally, I really enjoyed her third stage: The Neurotic Allergic Person-she is funny but described exactly what most of us went through or continue to go through!" – GratefulFoodie.com

"Nutrimom®- Food Allergy Liason is a WONDERFUL website and blog that is dedicated to food allergies… There are wonderful recipes, articles and information WELL worth reading and favoriting! If you or someone you know has any food allergy or dietary restriction we want to strongly encourage you to check out this site/blog!" – ZenSoy
"We are indeed honored to align forces with Nutrimom®- Food Allergy Liason. She has worked tirelessly for years to help raise awareness, and support those dealing with a food allergy. If you haven't stopped by her blog, you are missing out. Stop by and take a look today!" – Jodi of Talk For Me Tees 
"If you or someone in your household is dealing with a food allergy, you're not alone. A new book titled The Stepping Stones to Food Allergies by Nutrimom® blogger Tracy Bush can help you navigate the often confusing waters of food allergies. Containing common-sense advice and friendly "mom-to-mom" tips, the book provides suggestions on what to buy at the supermarket, recipes and even a food allergy action plan for parents to use when working with schools and other caregivers."– Wake Forest Baptist Health Center for Integrative Medicine 
"I highly recommend this book to any family living with food allergies as it is a great guide and reference to have on hand."– Debbie Adler of Sweet Debbie's Organic Treats Bakery
"Don't forget to take a look at Nutrimom®- Food Allergy Liason's new e-book! It's perfect for those struggling with finding allergy friendly foods." – Winona Pure Oils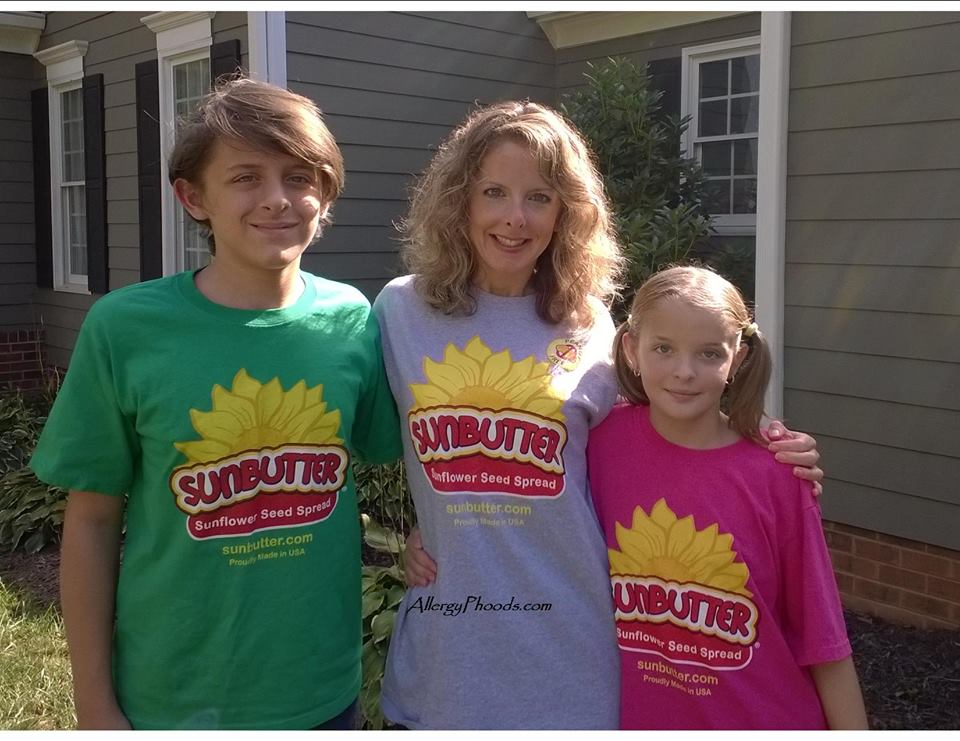 "The Stepping Stones to Food Allergies is a must-have resource for living with food allergies."– Brothers-All-Natural
"Thank you so much for your kindness, generosity and wisdom. You are truly a blessing to all who know you!" – L. Ford & Family
"I love reading your posts! Honestly, this page helps remind me some days when it's hard that we aren't alone!! Thank you!!" – Shannon Datars
"This book is a gem. It is a must-have for anyone new to food allergies, whether your child has food allergies or you suffer from them yourself.All of the information is presented in a simple, straightforward manner as if Tracy were sitting and talking to you herself." Read more here.– MyKidsFoodAllergies blog and author Kathy Penrod shares 
"I love this book! It's one of my favorite go-to books that I have!" – Tammi H